back to One Pound Coin list
Want to sell Gold or Silver? M J Hughes Coins are interested in buying your Coins, Scrap Gold, Scrap Silver, Jewellery and Pre-1947 Coins. Selling to me means that you do not have to pay sellers fees, Paypal fees or any other transaction fees. I will give you an immediate offer and pay you the same day. Single coins or entire collection. Please email or telephone us.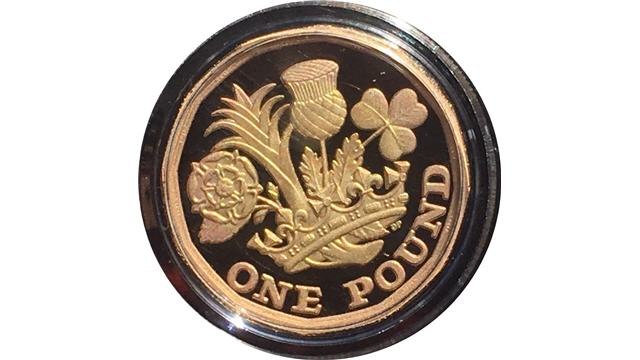 The CuproNickel 12-sided One Pound coin was introduced in 2017 and very quickly a gold version intended for collectors followed.
Although 2,151 were minted, the Royal Mint cleverly set the special presentation issue the same as the year - 2,017.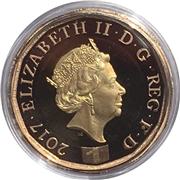 To simulate the bi-metallic coin, the gold one-pound is made in 916.7 yellow gold and enhanced with red gold. The diameter is 23.03mm and the weight is 17.72g.
The reverse was designed by David Pearce and shows the emblems of the four nations of the United Knigdom - England, Wales, Scotland and Ireland.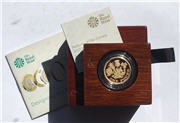 The Obverse is the portrait of Queen Elizabeth II by Jody Clarke.
The coin was packaged in a Royal Mint wooden box with a descriptive leaflet and individually numbered Certificate of Authenticity (COA).

Mintage: 2,151 (may include coins issued as part of a set). Minted at The Royal Mint.
In the Year: 2017
A UK June General Election results in a hung parliament. Prime Minister Theresa May confirms "Brexit means Brexit" as the UK continue negotiations to leave the European Union (EU). Donald Trump is inaugurated as the 45th President of the United States of America and Mike Pence as the 48th Vice President. President Xi Jinping heralds a "new era" for China. New 12-sided pound coin introduced into the UK. BBC announces the first ever female Doctor Who will be played by Jodie Whittaker. Leonardo da Vinci's painting "Salvator Mundi" sells for $450.3 million at auction in New York, a world record price. Prince Harry and Meghan Markle announce their engagement. Australia take an unassailable 3-0 lead against England in the Ashes. Bitcoin makes the headlines as the cryptocurrency rises over 1000% during the year.
General Description: One Pound Coin
The main currency of the UK, the GBP £1 coin replaced the previous £1 banknote in April 1983.

The 2017 Gold One Pound Coin (a British one pound (£1) coin) is a denomination of the pound sterling. Its obverse bears the Latin engraving "Dei Gratia Regina" meaning, "By the grace of God, Queen" and FD meaning "Defender of the Faith."

It has featured the profile of Queen Elizabeth II since the coin's introduction on 21 April 1983. Four different portraits of the Queen have been used:


1983-1984 Arnold Machin
1985-1997 Raphael Maklouf
1998-2015 Ian Rank-Broadley
2015 to date Jody Clark
The current standard reverse, featuring the Royal Shield, was introduced in 2008. In addition to the standard reverse one or two new designs are minted each year.
The coin replaced the Bank of England £1 note, which ceased to be issued at the end of 1984 and was removed from circulation on 11 March 1988, though still redeemable at the Bank's offices, like all English banknotes. One-pound notes continue to be issued in Jersey, Guernsey and the Isle of Man, and by the Royal Bank of Scotland, but the pound coin is much more widely used.
The round coin is made in Nickel-brass (70% Cu, 24.5% Zn, and 5.5% Ni). Most years there has been a variant as silver, piedfort silver, gold and sometimes platinum.
At 31 March 2016 it was estimated that there were 1,671,328,000 pound coins in circulation. The Royal Mint estimated in 2014 that 3.04% (about 47 million) were counterfeit and mainly because of this it was decided to change the design. Note that even some of the uncirculated coins have been counterfeited so this is still a problem for collectors.
Most one pound coins have an edge inscription, although sometimes this has been replaced with incuse patterns. The common incriptions are:
| | |
| --- | --- |
| Edge Inscription | Translation/etymology |
| DECUS ET TUTAMEN | 'An ornament and a safeguard' from Virgil's Aeneid |
| NEMO ME IMPUNE LACESSIT | 'No one provokes me with impunity'. The Motto of the Order of the Thistle |
| PLEIDIOL WYF I'M GWLAD | 'True am I to my country' from the Welsh National Anthem |
| PRO TANTO QUID RETRIBUAMUS | 'What shall we give in return for so much.' The Motto of Belfast |
| DOMINE DIRIGE NOS | 'Lord direct us.' The Motto of London |
| Y DDRAIG GOCH DDYRY CYCHWYN | 'The Red Dragon shall lead' The Motto of Cardiff |
| NISI DOMINUS FRUSTRA | 'It is vain without the Lord' The Motto of Edinburgh |
Production
The final round coins were minted in December 2015. Their replacement, a new 12-sided design, was introduced from 28 March 2017 onwards. It is of a similar 12-sided shape to the pre-decimal brass threepence coin, is roughly the same size as the current £1 coin and is bimetallic like the current £2 coin. The new design is intended to make counterfeiting more difficult, via an undisclosed hidden security feature, called 'iSIS' (Integrated Secure Identification Systems).
To reach the initial production of 1.5 billion pound coins to replace the exsiting coins the Royal Mint used ten presses 24×7 making 140,000 coins per hour. It takes a long time to restock the entire country and that's why the new coins are dated 2016 and 2017 despite not being legal tender until March 2017.
The old round one pound coin ceases to be legal tender on 15 October 2017.
Which Mint: The Royal Mint
The Royal Mint is the designated place for the UK to mint coins. It dates back well over 1000 years and is a Government-owned company.
Formed in the reign of Alfred the Great about the year 886, it moved to the Tower of London in 1279 and remained there for over 500 years. The
Master of The Royal Mint
has included famous figures such as Sir Isaac Newton. Since 2010 it has operated as Royal Mint Ltd, a company owned by HM Treasury, under an exclusive contract to supply all coinage for the UK although it also produces medals and coins for other countries. It is currently located at Llantrisant, Wales.
The Monarch: Elizabeth II (1952-)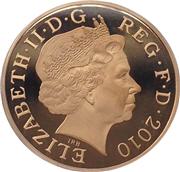 Queen Elizabeth II is the current and longest reigning monarch ever. Born on 21 April 1926 to King George VI and Elizabeth Bowes-Lyon, she became Queen in 1952 and her Coronation was on 2 June 1953.
Queen Elizabeth II has issued many coins and was monarch during decimalisation.
Country of Origin: United Kingdom
The United Kingdom (UK) is the Union of England, Scotland, Wales and Northern Ireland. It is often refered to as Great Britain (GBR). It has a long, rich history.
It's orignal coinage was Pounds, Shillings and Pence but since decimalisation on 15 February 1971, it is £1 = 100p, that is One Pound = 100 pence. The coinage of the UK is also a long history, the Royal Mint being established as long ago as 886AD when coins were hammered. Today there are perhaps 30 billion coins in circulation, and many (numismatic) collectors coins and sets are issued frequently in gold, silver and other metals.
---
Want to sell Gold or Silver? M J Hughes Coins are interested in buying your Coins, Scrap Gold, Scrap Silver, Jewellery and Pre-1947 Coins. Selling to me means that you do not have to pay sellers fees, Paypal fees or any other transaction fees. I will give you an immediate offer and pay you the same day. Single coins or entire collection. There are a number of ways you can sell to us:
Visit our Shop in Alton
We have a town centre shop called 'M J Hughes Coins' at 27 Market Street, Alton, Hampshire, GU34 1HA. See a details of opening times and how to get there on the
Visit our Shop
page.
Post to Us
Most people who sell to us prefer to post via Royal Mail Special delivery, which is a guaranteed, signed-for, insured delivery. Usually we will make payment the same day. For details of how to send to us see
How to Post to Us
Meet in Person
We understand not everyone has access to transport to come to us, or get to the Post office. If you have a sizeable collection we are happy to do a home visit to you. We also attend various Coin Fairs every month. If you prefer this way, please see
How to Meet Us
page.
---
back to One Pound Coin list