back to Gold 5 Pound Coin list
M J Hughes Coins are always interested in buying and selling coins like the 2010 Gold 5 Pound Coin BU. Selling to me means that you do not have to pay sellers fees, Paypal fees or any other transaction fees. I will give you an immediate offer and pay you the same day. Single coins or entire collection. If you have something and want to sell then please email us or telephone us.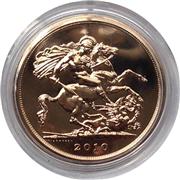 Benedetto Pistrucci's famous portrayal of St. George slaying the dragon is depicted on the reverse of the coin. The design is based on the original pattern piece of 1820 with the designer's name 'PISTRUCCI' , shown in full in the exergue, and with a broader rim.
Queen Elizabeth II's fourth portrait can be seen on the obverse of the coin, designed by Ian Rank-Broadley.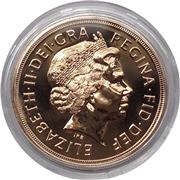 The 2010 Gold 5 Pound Coin BU would have been housed in an original Royal Mint acrylic screw top capsule.
The coin would then be presented in a Royal Mint wooden case, with outer black card box, accompanied with an individually numbered certificate of authenticity (COA).
The gold five pounds piece has a weight of 39.94 grams. The coin is made of solid 22 carat gold (Gold fineness of 0.916).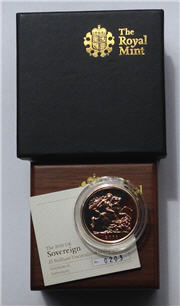 Only 1,000 BU gold five pounds pieces were issued by the Royal Mint in 2010.

Mintage: 1,000 (may include coins issued as part of a set). Minted at The Royal Mint.
In the Year: 2010
In 2010 there was a General Election in the UK and David Cameron replaced Gordon Brown as Prime Minister. The Conservatives and Lib-Dems formed a coalition. The Winter Olympics was held in Vancover, Canada. 33 Chilean miners were successfully rescued after being trapped 2000 feet underground for 69 days. Barack Obama was US President and Queen Elizabeth II was in her 58th year as Monarch. Spain beat Netherlands 1-0 to win the FIFA World Cup.
General Description: Gold 5 Pound Coin
Not that many people own Gold Five Pound coins, I suppose mainly because they are an expensive coin even in bullion form. Perhaps even fewer realise there are two basic kinds of gold five pound coin. They are very similar, yet distinct.
The Gold £5 Coin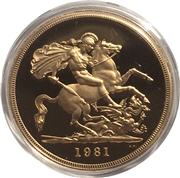 Often referred to as the
non commemorative £5 coin
or the
Quintuple Sovereign
as it is exactly five times heaver than a Sovereign (7.9881 x 5 = 39.94g). As one sovereign is nominally one pound then a quintuple sovereign must be five pounds.
The Gold £5 coin has its history deriving from the five guinea coin right back at the start of the 19th Century. In those days a guinea was valued at one pound rather than the one-pound-and-one-shilling it is often remembered as nowadays. George III, George IV and Victoria all issued actual gold £5 coins and others issued a few too, but Elizabeth II began the surge in production, especially from 1980 onwards. From 1990, the £5 coin was minted in Cupro-Nickel too and silver versions were also available.
The Gold Crown


The Crown is another English coin with a long history. You may remember the Half-Crown from pre-decimalisation days, but the Crown has been a commemorative coin for as long as we can remember. The Crown was legal tender at a quarter-pound, which was five shillings (25 pence in decimalised money).
In the Eighties we saw the introduction of the pound coin and the two-pound coin, so the Government decided that the crown needed to be restored to it former glory as biggest denomination coin and the crown was re-denominated to £5 in 1990.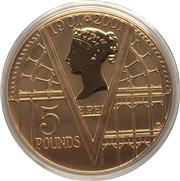 This re-denominated was OK by itself, but as a (still) mainly commemorative coin it was soon available not only as Cupro-Nickel but as silver and ...
gold
. That meant we had a new, official, gold £5 coin.
It also weighs 39.94g. And to prove its value it has '5 pounds' written on it.
The only difference between the sovereign gold £5 coin and the gold crown is the diameter. The crown maintained its original diameter of 38.61mm compared to the slightly smaller 36.613mm of the sovereign type.
The re-denominated had other effects too. Whether re-denominated is determined as from this point onwards or backward-compatible is unclear to many. The original crown was a gold coin, so does that mean that Henry VIII's gold crowns were the first £5 coins? So the history of coins starts to rewrite itself in some ways, although if this is intended or correct I'm not sure.
The Gold Five-Pound Piece


I've noticed many dealers referring to these coins as '£5 pieces'. Maybe it's a way of avoiding the confusion and grouping the coins into the same category rather than having them as two separate entities. Besides the slight difference in diameter (which is difficult to see as most of these coins are encapsulated in some way) there's little to tell.
If the reverse looks like it commemorated something then it's probably a crown. If the reverse is the same as the reverse of a sovereign of the same year then it could be a five pound coin. Whatever, you have a gold five pounds with almost 40g of gold; it's impressive and they are a great investment.
Five pound coins are aften in 4- or 5-coin sets, together with combinations of a sovereign, half-sovereign, double sovereign, quadruple sovereign and maybe some commemorative item or a year-set collectable. They can be bullion, proof or matt-proof.
Despite the high intrinisic value and even higher collector value, five pound pieces are much sought after and are often sold out within days of release causing some of the coins to have a very high price tag.
Which Mint: The Royal Mint
The Royal Mint is the designated place for the UK to mint coins. It dates back well over 1000 years and is a Government-owned company.
Formed in the reign of Alfred the Great about the year 886, it moved to the Tower of London in 1279 and remained there for over 500 years. The
Master of The Royal Mint
has included famous figures such as Sir Isaac Newton. Since 2010 it has operated as Royal Mint Ltd, a company owned by HM Treasury, under an exclusive contract to supply all coinage for the UK although it also produces medals and coins for other countries. It is currently located at Llantrisant, Wales.
The Monarch: Elizabeth II (1952-)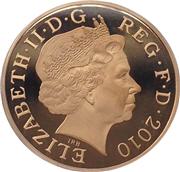 Queen Elizabeth II is the current and longest reigning monarch ever. Born on 21 April 1926 to King George VI and Elizabeth Bowes-Lyon, she became Queen in 1952 and her Coronation was on 2 June 1953.
Queen Elizabeth II has issued many coins and was monarch during decimalisation.
Country of Origin: United Kingdom
The United Kingdom (UK) is the Union of England, Scotland, Wales and Northern Ireland. It is often refered to as Great Britain (GBR). It has a long, rich history.
It's orignal coinage was Pounds, Shillings and Pence but since decimalisation on 15 February 1971, it is £1 = 100p, that is One Pound = 100 pence. The coinage of the UK is also a long history, the Royal Mint being established as long ago as 886AD when coins were hammered. Today there are perhaps 30 billion coins in circulation, and many (numismatic) collectors coins and sets are issued frequently in gold, silver and other metals.
---
M J Hughes Coins are interested in buying your
2010 Gold 5 Pound Coin BU
! Selling to me means that you do not have to pay sellers fees, Paypal fees or any other transaction fees. I will give you an immediate offer and pay you the same day. Single coins or entire collection. There are a number of ways you can sell to us:
Visit our Shop in Alton
We have a town centre shop called 'M J Hughes Coins' at 27 Market Street, Alton, Hampshire, GU34 1HA. See a details of opening times and how to get there on the
Visit our Shop
page.
Post to Us
Most people who sell to us prefer to post via Royal Mail Special delivery, which is a guaranteed, signed-for, insured delivery. Usually we will make payment the same day. For details of how to send to us see
How to Post to Us
Meet in Person
We understand not everyone has access to transport to come to us, or get to the Post office. If you have a sizeable collection we are happy to do a home visit to you. We also attend various Coin Fairs every month. If you prefer this way, please see
How to Meet Us
page.
---
back to Gold 5 Pound Coin list